GOD-Complex - Kingdom Of Decay
Release Date: 20.12.2009
Synopsis:
Kingdom Of Decay is a follow-up to the previous, critically acclaimed GOD-Complex album "The Curse Of Divinity". If you haven't heard TCOD yet, you should download it right HERE, because in some ways Kingdom continues on a spiritual level from where The Curse had ended. Once again, Kingdom Of Decay is seen exclusively from GOD's perspective, but there is one quite significant difference this time around - while TCOD has been very personal, dealing with GOD's own private stuff, relationships etc. Kingdom Of Decay is just the opposite and it focuses most of it's attention on the world in a global view.

Kingdom is strongly conceptual album, which analyzes themes like global ecological problems, forests and overall nature destruction, complications of a completely wrong human attitude and notices the undeniable dementia of certain aspects in the current society. Even by trying to avoid the personal reality, there are also few glimpses of how these global problems and drastically wrong environment and atmosphere might impact certain individuals on a mental level, which might, in the end, result in tragic consequences. In a way, Kingdom Of Decay can be seen as the ultimate solution for this planet and it's inhabitants. What that solution might be? Well, listen to the album and make an opinion for yourself.
As always, many things remain in a purely metaphorical sphere and it's up to you to decide what various songs are actually about. Plus there are also usually strong double meanings present. Overall, Kingdom Of Decay is thematically much more important album than The Curse, because it touches the crucial subjects which concerns every single one of you. It's constructed to change things, to change minds, to change YOU for the greater good. That's way more fundamental than personal stuff concerning 1 single individual, even though that individual is GOD of this world.
Musical / Vocal Description:
Musically, Kingdom Of Decay is very alternative, experimental and industrial album. Song structures, sound design and even attitude towards music making has been really special, strange and unconvencional, which transformed Kingdom into sonically extremely interesting piece of work. At least for it's creator. For causual listeners, this might be a really hard nut to crack, since there are only minimal signs of catchy songs or straightforward EBM slashers, which you could find on the last album. Kingdom Of Decay definitely requires advanced listening skills (beginners can train them on the previous album) to fully appreciate it, but if you give it a chance and more listens, it will reward you with divine fruits of sonic goodness.
The core of Kingdom is very electronic, but there is pretty strong dose of originally recorded industrial injected inside and occasional playing with live instruments. There are lots of live guitars on "Digital Jesus", live saxophone on "Raindrops", loads of pianos throughout the album etc. Vocally, GOD tried to be more compact this time, where the objective was to unify the feeling of his voice. That's another polar opposite difference - vocal styles on The Curse Of Divinity has beeen extremely varied, different on almost every song, which has been nice, more colourful and added the element of variability, but it also shattered the concept a bit. Kingdom Of Decay is much more lyrical album than The Curse, so the goal was that listeners are gonna pay more attention to the lyrical content rather than analyzing it's vocal delivery.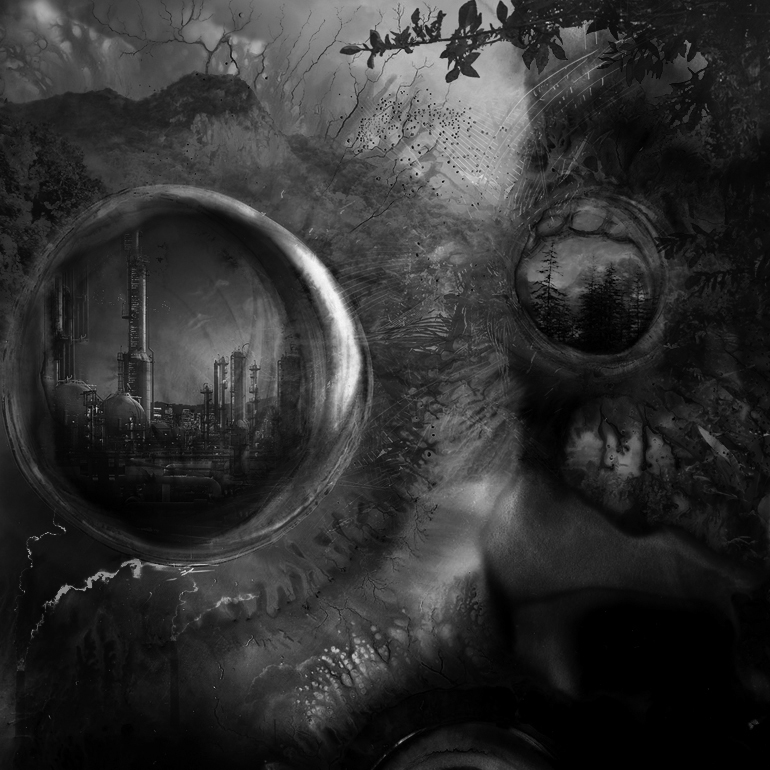 Tracklist:
1. Illumination
2. Sin Society
3. Plastic Green Eyes
4. The Lawnmowerman
5. Preparing The Plans
6. Jungle Inferno
7. Digital Jesus
8. King Of Pain
9. Raindrops In The Sand
10.Flood The Land
Lyrics: You can read all the lyrics on KOD right HERE
..or check out the printed lyrics for this album all together HERE


Download: Here's the full brand new GOD-Complex album "Kingdom Of Decay" including visual coverart in color. Download package is 356 MB .ZIP archive file and it contains 2 separate folders - 1 with good quality 320 kbps .MP3's (suitable for some portable players that don't support anything else) and 1 folder with the album in lossless quality .FLAC format (for your best listening experience on your hi-end home audio systems and headphones), they're both properly tagged and ready. If you can, I recommend listening to the .FLAC version of the album, because .MP3's are simply not good enough anymore these days. The quality difference might not be that fatal, but it's definitely clearly hearable.

Do you want some other formats? .OGG, .WAV, or whatever? If so, just let me know.
Basic Instinct
There has also been a pilot single "Basic Instinct", released prior to this album, which is in the end NOT on the album, because it doesn't fit the rest musically and it's been a musical collaboration, but it's extremely closely connected to the whole theme and it rulez, so I strongly recommend to listen to it, you can download Basic Instinct right HERE


Credits: Music, Production, Lyrics, Vocals, Composing, Performing, Arranging, Programming, Mixing, Mastering, Design, Concept etc. by GOD.

(C) GOD 2009
PG-13 - Kingdom Of Decay is a relatively soft album, but there are also minor brutal elements. There is a presence of serious religious fanaticism, there is blood, destruction of human race and occasional explicit content. It's really minimal and only in a few songs, but GOD thought it would be considerate to put a PG-13+ rating label on this album as a warning. So, dear children and kiddie G-C fans, if you are under 13, you theoretically shouldn't listen to this album too much, or else, you'll become evil. Of course you will download it and listen anyway, but just so you know.
Thank You Section
"Kingdom Of Decay" would also like to thank a few humans.... (yes, my albums are intelligent life forms capable of their own decisions and actions. I bet your album can't do this, well, my albums are cooler than yours, sucker).
Thanks for support, collaboration or inspiration:
Matt Razor, Ted Phelps, Nic Endo, Marc Horstmeier, Tom Shear, Bootch, L.M.P., Malice Agnostica, Angelina Jolie, Amnesia and all the G-C fans.
Feedback - Fans Reactions
Polls

This is the Poll dimension, where you guys have the power to decide upon many GOD-Complex related topics. Vote like crazy, because results of these polls might even influence the future direction of GOD-Complex, since GOD takes opinions of his fans pretty seriously. Well, sometimes, anyway.
Vote for your favourite Kingdom Of Decay song by clicking HERE

Reviews

Do you want to write a review of Kingdom Of Decay and share your opinion with the others? Don't be afraid and do that, email your review to GOD and he's gonna publish it right here for all the other G-C fans to read what you guys think. Your reviews may be in english or czech language, may be short, may be long, may be positive or negative, it doesn't matter, but it should be at least somehow constructive and intelligent to be published. Also, don't hesitate to rate it in the end, preferable rate scale is 1 - 10.